28. Business of Web design
Web design overview
(click any heading to come here)
The homepage is the first impression.
When first time visitors see your homepage, sometimes called the splash page, they will have questions about your site, your business, and what your message is. The homepage should provide answers.

Visitor questions
Here are the most important questions your homepage must answer. If your page fails any of these questions start the design over.
| Visitor Questions | How we answer the questions |
| --- | --- |
| Where am I? | Provide identification of the site/place |
| Who are they? | Show a logo, tag line, capsule summary |
| What do they do? | State what products/services are available |
| What can I do here? | Provide a preview of products/services |
| Why would I do that? | List the reasons visitors will benefit |
This section of the course deals with how well site content is communicated to users. We will look at homepage designs for some for-profit businesses and non-profit organizations next.
Get your message across

Business homepage
Here is a homepage that provides good information about itself, and makes it clear what you can do at the site. We will look at the parts of this page one piece at a time.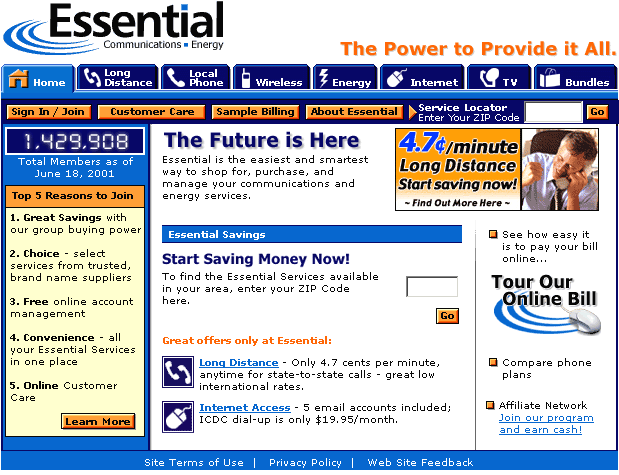 Homepage information 1
Lets see if the answers to the first three questions are satisfactory. Is there enough good information to satisfy the "What do they do" question? No, because the tag line does not in and of itself narrow the range of possibilities. However, for starters, its is a very good design. We will learn more about "What they do" lower on the screen, which is still "above the fold."
"Where am I" and "Who are they" answers seem satisfactory.

Homepage information 2
Lets continue to look for visitors answers. The next question is "what do they do?"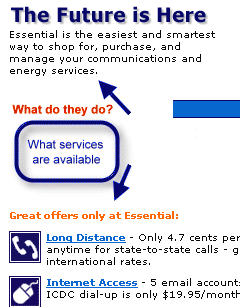 Homepage information 3
Lets continue to look for answers to visitors questions; the next question is "what can I do."
Everything on the homepage must contribute to keeping the user interested, keeping the user on site. "What can I do" is one of the essential design questions.
If a site has a novel service like Essential.com, you probably need several engaging options for keeping visitors interested. The sample billing is designed to allay fears by showing prospects an invoice. Essential seems to have done a great design job.

Homepage information 4
Still looking for answers to visitor questions; the last question is "why would I do that?"
When the business offers novel solutions, or is a novel enterprize, making it clear to prospects how the business can be of benefit may require some screen real estate to communicate. Essential.com is offering you a bundle of services that traditionally would be provided by 4-5 utility companies. So the novel solution has to be explained.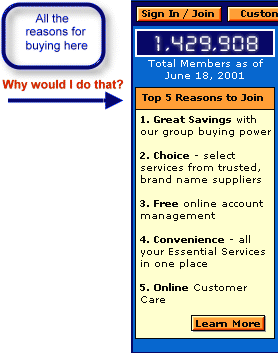 Nonprofit homepage
Here is a non-profit homepage that provides good information about itself, and makes it clear what you can do at the site. It is a pretty simple page with only four links (left column). We will look at the parts of this page one piece at a time and discuss how well it communicates.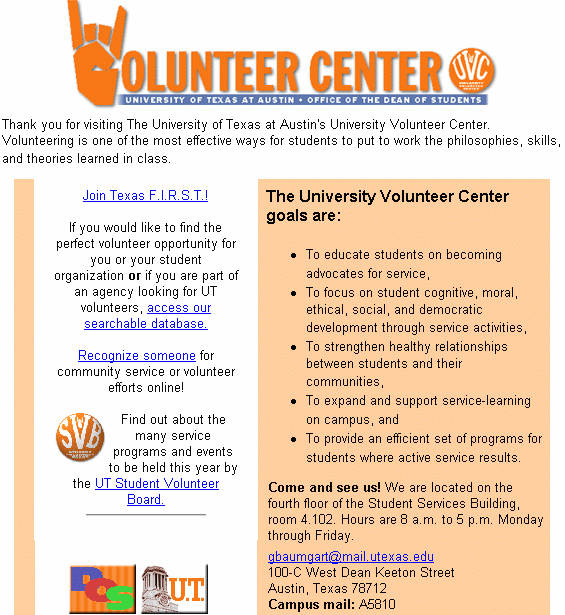 Visitor information
The home page is the first impression.
A logo and tagline are usually essential, but the tagline can be omitted if everyone knows what the site is all about. We already know about MSNBC, CNN, Tiffany, Toyota and Sears. Taglines are necessary when an enterprize needs to have its goods and services understood.
Site objectives

Information and referral sites
Information and referral sites will not sell you anything. Their purpose is generally to keep you loyal to their brands or to their message.
A commercial information and referral site will give you a great deal of product-related information and refer you to a local dealer site (or store front) if you want to purchase. They are bolstering their product lines and preserving their retail channels.
Here is a site that makes its purpose very clear, and offers you some options on the left. The left side of this page will be discussed next.

Information and referral sites 1
Huggies World is a service offered to parents with children in diapers. They are Kimberly Clark's customers.
Services include information and referral to other sites where the customer's interests might also be met. All this has to be non-commercial in tone to be effective. Think of the site as a well informed next-door neighbor you can go to for advice. Someone who knows how you feel and what you need; a support group without driving to meetings.
This is how the Parenting Community works:
Welcome to THE place for helpful advice, creative ideas and memorable experiences from Moms, Dads and other important people. C'mon in! Meet! Connect! Conference! And check back soon -- we're discussing new things all the time!
Below, Special Offers, Sweepstakes and Ask Huggies will ask for your e-mail address. You will be included on consumer panels in the future for reactions to product improvements, new product ideas, etc. You will be on the marketing team, and maybe not realize it.

Information and referral sites 2
The Kleenex site has a broader audience than parents of infants. Anyone with a cold, the flu, a personal relation disaster, or the loss of someone close would need Kleenex. Notice the centerpiece of the site is sending a cheerful message to that person.
Sending someone an eCheer gives your e-mail address to Kimberly Clark, and they can start to build a profile on you. Knowing your customers better is a key to success on the Web. Amazon.com pioneered tailoring to customers.
Kleenex Site

Information and referral advantages
If you give your customers helpful information on a topic you know is important to them you gain their respect and loyalty. By offering services like online discussion groups and expert advice, they will come back to your site. Returning customers is one of the key indicators of a successfully designed site.
The Kimberly-Clark sites do not sell. They build confidence, loyalty and customer appreciation. These design objectives are not for all businesses, but when appropriate they have the significant advantages shown below.

Commercial advantages
Channel for dealer referral and sales
Product loyalty
Brand, model and size awareness
Heightened company respect
Less expensive customer service than telephone
Audience for market research surveys
Platform for launching new products
Asset value of sites
Think of the value of a Web site as a magazine publisher would about their magazine -- it is a tool for selling advertizing and getting editorial messages distributed. Popular magazines with a large circulation can charge more for advertizing than magazines with fewer subscribers. Market segment is an issue for magazines as well circulation. Advertizers seek ways to get at their particular market, and magazines that address that market are desirable venues for advertizing. Web sites and magazines share a similar business model.

Visitor census
Circulation is a major business issue for magazines, and the number of page hits is a business issue for Web sites. Traffic volume is an indication of how popular your site is. Popular sites have a greater opportunity to sell advertizing space than sites with little or no visitors.
Traffic data can be gathered in access logs (visitor logs) or home made hit counters. Access logs provide extensive information that can be analyzed and used to shape the site as well. Without traffic figures you do not have convincing evidence of the asset value of your site.

Time on site
Stickiness is the term used to describe sites that keep visitors looking at their pages. In your own experience on the Web, you probably spend only seconds on pages that do not meet your needs or support your interests at the time. You click them off. Relevant pages on well designed sites get more of your time.
The second measure of asset value is stickiness. It is usually calculated as average time on site. Alternatives to the average would be median and time ranges.

Visitor logs
When we request html and asp pages from Web servers, the server can record information in its files about our requests. These files are called access logs or just logs. Webmasters have many options about the contents of the files they record, including how much information about you request.
Log information falls in four categories, and may be recorded in one to four server files.
| Log Types | Description and site questions answered by the log information |
| --- | --- |
| Agent log | Name and version of the user agent (browser) requesting a page. Do you need to support many customers running Opera or Netscape 4? |
| Referrer log | URL of the page before requesting a page. Which Web sites are providing you with valuable traffic? |
| Transfer log | Time of the request. How long do users stay on my pages? |
| Error log | Requests my pages could not handle. Are there dead links on my pages? |
Promoting your site

Site promotion off site
Don't get too caught up with the Web as your only avenue of attracting customers. Most of us still read mail and newspapers, and listen to the radio and watch TV. In other words, promote your new Web site in the same proven ways you would promote any new product or service.
Your audience has to become aware of the new Web site. If you can get them to your homepage, then you have done site promotion very well. Here are a few places to have your new URL show proudly.
Business cards
Letterhead
Yellow pages
Business checks
Invoices
Answering machine message

Sales receipts
Packaging
Classified ads
Logo on your entrance
Ball point pens
Newsletters
Proactive advertising may include a specific announcement of the site or just its mention in any on-going promotional efforts. For example:
Direct mail
Radio and TV spots

Press releases
Ads or lap cards in magazines

Site promotion on the Web
You and I will most often land at a Web page that is new to us because we asked a search engine to "find sites that have X." Or we would use one of the Web portals like Alta Vista, Yahoo, AOL, or MSN that have convenient directories (subject indexes) to help us look for X. Because there are billions of sites we have to use search engine technology and directories to reduce those numbers to a few good candidate sites for us to inspect.

Search engine awareness
Promotion of your site to search engines seems to have become an industry. You now can buy services that promise to get you listed by search engines as one of the top sites that have X. You can also follow guidelines available on many sites for doing this yourself and saving some money.
Here we will cover the basics of search engine-friendly HTML5 pages, and leave the more extensive guidelines to Web promotion specialists you can find by searching for "site promotion advice" on Google. At the time of this writing, Google found over 500,000 pages with that criteria. So there is plenty of advice.

Search engines and HTML5
Pretend for a moment that your site provides a public service: information for newly weds about the modern responsibilities of child rearing. You have worked hard developing multicultural content, compiling research statistics, describing disparate points of view, organizing and refining the pages, and so on. You have a big stake in the project, and you definitely want visitors.
Search engines and portals will bring hundreds of visitors if you are among the first 20-30 sites they list on a particular criteria or subject. Web marketing research confirms this regularly. It really works.

Top of the search list
Be prepared to have your site indexed or searched. The results will be used to classify your site so when someone enters a criteria like "raising children" your site will be near the top of those listed. Here are the HTML5 page elements read by engines, in priority order.
title
meta description
meta keywords
h1, h2, h3
body
a (hyperlink)

Favorable HTML5 content
The basic advice for search engine markup is "be descriptive." Your content has to be understood to be classified. Where? Place clear descriptions in the <title> container and the two <meta> tags.

<title>Child rearing for newly weds</title>

<meta name="keywords" content="newborn,babies,baby,
    infant,toddler,children,child rearing advice,
    cultural practices of child rearing,guidelines for child rearing,
    tensions in marriage with newborns,developmental statistics,
    bringing up baby,caring for newborns,working parents,
    parental and infant psychology" />

<meta name="description" content="successful practices of raising
    children in modern society, including cross-cultural differneces,
    recent trends, what no longer works with children, safety
    and psychological adjustment" />

Many search engines inspect the headings and the content of your pages looking for indications of how to classify your site. Advice: Include a site description for visitors near the top of the page. It is important to let your visitors (and search engines) know these things you learned in an earlier lesson:
Where they are
Who you are and what you do
Why they would want that
What they can do

Optimizing content for searches
Search engines snoop Web pages using a "spider" to crawl the Web. As they crawl the Web, they gather the information from your HTML5 tags (title, meta, etc) in order to classify and rank your site.
Scooter, spider, crawler, robot, worm, slurp
These are the names used by search engine programs that read and classify your pages so they can be found quickly in queries. You can detect the presence of a robot by inspecting the host identification of a visitor. If you use access logs, look for one of these names to learn if you have been scanned. After you have been scanned, your page(s) will be included in the results of a query entered by a prospective visitor to your sort of site.
Query results will place highly ranked sites first. When your site is ranked lowly, it could appear on a search engine's results page such as "Results 1,190 - 1,200 of about 200,000." You or I would usually not go that deeply into the listing of matches. In fact, if you are not within the first 30 matches then your site is irrelevant to the searcher.
There is an extensive information about optimization techniques for search engines. Because the scope of this topic is beyond our course, you are advised to check on the Web for complete information. Google found 355,000 sites that met the criteria of "search engine ranking." Because of the overwhelming amount of information, you may be better advised to first check with a Google search on the topic, and with the search engines themselves, described next.
Other Web-based promotions

Register with search engines
When in doubt, go to the source of the problem and seek information from the search engine sites themselves. Here are a few places to start.
Google
Bing
Yahoo
Ask.com
AOL.com
Baidu
Wolframalpha
DuckDuckGo

Register with directories
Directories rely on submissions and have their staff inspect your site and determine if it will be accepted. They often rank sites in alphanumeric order with paid listings sometimes higher up. The following directories are also search engines, but it is generally believed that the search engines above are powerful.
Some search engines and directories also place paid listings at the top, so it's not always possible to get a ranking in the top three listings unless you pay for it.

Trade links and banners
Find popular sites that would appeal to the same market as your site. How to find these sites? Use Google.com.
Your site content may appeal to the owners of these other sites, and they might be willing to place a link to your compatible site in order to make their site more of a hub for the content. Traffic on Web pages makes money -- hub sites have rich content or they have links to content not found on their pages.
Reciprocal link agreements could work well. A link or a banner for the hub site might look good and connote to the visitor that you are a "connected" specialist in the subject of your site.

The e-commerce masters
Microsoft realized the potential for the Web as a platform for business of all kinds. Your education on becoming a Webmaster will not be complete until you give this site some serious time.
For the fledgling e-business person, Microsoft has advice, news, referral to services, ratings of services, and products. Its worth your time to check this out.